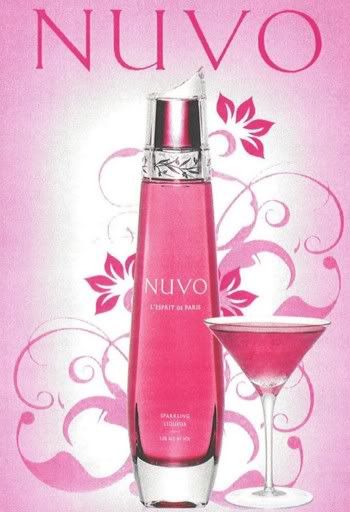 Last night we went out for my best friends birthday. We had a ball. While at the bar, I
decided
to try something new. I normally drink Malibu rum w/ pineapple, cranberry and a splash of OJ. My
Caribbean
cooler..it's like
kool
-aid almost, making it good to sip on all night long and not be drunk or hungover the next day. But this was a birthday celebration for my bf..I needed to go hard,
lol
! I eyed the choices..Patron, Goose, all the usual liquor, blah..& then I saw the
Nuvo
!
Note: I know this isn't a NEW liquor. It's been on the market for a while now... but it's still new around these parts. Many bars/clubs that I go to don't carry it.
The
Nuvo
was pink and the bottle was cute so I had to try it. Best choice I could have made. It is so smooth and has a great taste. Our other friend must have agreed because she bought a bottle of it! I can't wait to have my next girlie get together to serve my new found fave drink. If you
haven't
tried it..please do the next time you go out...you won't regret it!
PS. 4 shots and 2
Caribbean
cooler's later.. No HANGOVER. A huge plus in my book..
lol
.